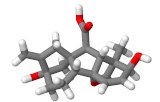 Plant Growth Regulators - Gibberellins (GA)
Gibberellins (GAs) are plant hormones that regulate various developmental processes, including stem elongation, germination, dormancy, flowering, flower development, and leaf and fruit senescence. GAs are one of the longest-known classes of plant hormone. All known gibberellins are diterpenoid acids that are synthesized by the terpenoid pathway in plastids and then modified in the endoplasmic reticulum and cytosol until they reach their biologically-active form. All gibberellins are derived via the ent-gibberellane skeleton, but are synthesised via ent-kaurene. The gibberellins are named GA1 through GAn in order of discovery. Gibberellic acid, which was the first gibberellin to be structurally characterized, is GA3.
Gibberellins are involved in the natural process of breaking dormancy and other aspects of germination. Before the photosynthetic apparatus develops sufficiently in the early stages of germination, the stored energy reserves of starch nourish the seedling. Usually in germination, the breakdown of starch to glucose in the endosperm begins shortly after the seed is exposed to water. Gibberellins in the seed embryo are believed to signal starch hydrolysis through inducing the synthesis of the enzyme α-amylase in the aleurone cells.
Search result : 120 product found
Refine your search :
Unconjugated

25

Biotin

9

APC

4

FITC

4

Cy3

3

HRP

3

PE

3

Cy7

1
Biochemicals

65

Primary antibody

34

Protein/peptide

10

Inhibitor/Antagonist/Agonist

7

kit

3

Buffers and reagents

1
WB

56

ICC

32

IP

32

IHC

9

Chemiluminescence

3