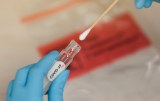 SARS-CoV-2 - Products for diagnosis - Classical viral Transport Medium (VTM)
The success of the diagnosis of SARS-CoV-2 (2019-nCoV) during the COVID-19 outbreak depends largely on the quality of the specimen and the conditions under which the specimen is transported and stored before being processed in the laboratory.
The RT-qPCR diagnosis of COVID-19 requires nasopharyngeal swab specimens. This sample is then deposited in Viral Transport Medium (VTM). Viral Transport Medium allows the collection, transport and storage of samples containing viruses, chlamydia or mycoplames. There are two main types of VTM: inactivated and non-inactivated.
Non-inactivating VTMs are often based on the composition of a basal culture medium such as Hank's Balanced Saline Solution (based on CDC recommendations). This type of VTM has a stable osmotic pressure, which provides a suitable transport and storage environment for the collection samples. It can store virus samples under prescribed conditions for routine nucleic acid extraction, genetic testing, PCR testing, etc. It can also be used for the storage of virus samples in the laboratory.
Search result : 14 product found
Refine your search :
Other products

6

Buffers and reagents

4

cell culture products

3

cell culture media

1