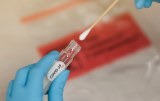 SARS-CoV-2 - Products for diagnosis - Inactivating Viral Transport Medium (VTM)
The success of the diagnosis of SARS-CoV-2 (2019-nCoV) during the COVID-19 outbreak depends largely on the quality of the specimen and the conditions under which the specimen is transported and stored before being processed in the laboratory.
The RT-qPCR diagnosis of COVID-19 requires nasopharyngeal swab specimens. This sample is then deposited in Viral Transport Medium (VTM). Viral Transport Medium allows the collection, transport and storage of samples containing viruses, chlamydia or mycoplames. There are two main types of VTM: inactivated and non-inactivated.
Inactivating VTMs are designed, as the name implies, to inactivate viruses contained in the sample. These VTMs are used for samples containing easily transmissible viruses and to prevent contamination of personnel handling these samples. Generally, inactivation is achieved by lysis of the virus particles. Many inactivating VTMs contain a surfactant such as guanidine salt and contain a protective agent to prevent nucleic acid degradation.
Search result : 13 product found