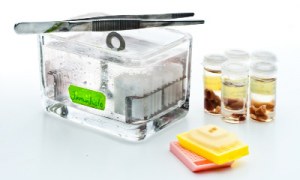 Immunohistochemistry / Immunofluorescence

The principle of ABC detection kits is based on the affinity of avidin (or streptavidin) for biotin. Indeed, abbreviation ABC stands for Avidin / Biotin Complex. In general, the ABC detection kits are composed of: - A biotinylated secondary antibody - An Avidin / Enzyme Complex The kits may or may not contain the blocking and dilution buffers and the substrate depending on the formats.

I. Required material Reagents - Primary antibody - Primary Antibody Diluent - Pre-Blocking solution - Mounting medium Buffers - Immuno Wash Buffer - Xylene or dewaxing reagents - Absolute ethanol - Distilled or deionized water II. Experimentation length - 10 mn of blocking - 30-60 mn of sections incubation in primary antibody - 36 or 31 mn of others incubation - 20 mn of rinsing steps - TOTAL : 1h31 to 2h06 III. Staining procedure 1...